After surviving another long winter, you deserve to have a clean and orderly home in time for spring. House cleaning services in Detroit can help you get your home ready for the rest of the year. Keep reading to find out why you should get ready for spring with professional cleaning services .
Professional Cleaners Are Up to the Job
If you have neglected some of your cleaning duties during the winter, the task of cleaning your entire home can seem overwhelming. When you hire a professional cleaning service, though, you can enjoy a clean home without all of the work. Professional cleaners are up to the task of cleaning your home so you can enjoy a beautiful interior, even if it is currently in a state of disarray.
Professional Cleaners Have the Right Tools
You might have the cleaning supplies you need for weekly cleanings, but do you have what you need to take on a major spring cleaning project? If you hire a professional cleaning service, they already have all the equipment they need to do the job for you. This means that you do not have to invest in cleaning products that you will only use once or twice a year. The maids will bring everything they need to your home so you do not have to worry about adding to your cleaning supplies.
Professional Cleaners Know How to Get Your Home Really Clean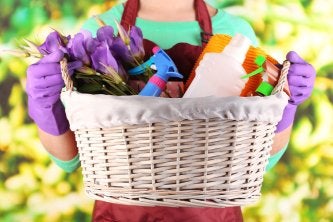 If cleaning is not your forte, you might not have the knowledge to get your interior as clean as you want it to be. When you hire a professional cleaning service to do your spring cleaning for you, they know exactly what they need to do to get your interior in the best condition. From the bathrooms to the hallways, they will ensure that your home is as clean as possible.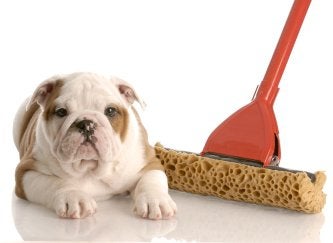 When you have pets, it is much more difficult to keep your home clean. Without effort, your home will quickly show the wear and tear of life with animals. Use the following tips and a professional cleaning service in Ann Arbor to enjoy pets in your home without the mess.
Brush Your Pet
Hair is one of the biggest issues of having a pet. If you are tired of sitting on layers of hair that your pet has shed, you should take some time to brush the animal once a week or once every few weeks. This will significantly decrease the amount of hair that ends up on your floor or on the furniture, so your professional cleaners will be better able to get your home in the best condition. If possible, you should brush the animal outside so you do not accidentally spread the hair around your home.
Housetrain Your Pet
You can avoid a lot of unnecessary accidents by consistently housetraining your pet so he understands where to go to the bathroom. Whether you train the animal on your own or consult a professional trainer, housetraining your pet can prevent a lot of accidents that can dirty your floors. If you have cats, you should empty the litter boxes regularly to keep your home from smelling. If you have dogs, you should let them outside enough times during the day to prevent an incident inside.
Hire Professionals
When you have pets, you need to clean your home more often to keep it in the best condition. If you do not have the time to clean your home regularly, you can hire a cleaning service to help. Home cleaning services in Ann Arbor, Novi, Detroit, and the Detroit Metro area can provide the help you need to keep your house clean even if you have pets. Whether you have one dog or six cats, the professional cleaners will give your home the attention it needs.
Giving your refrigerator a quick wipe down might not be enough to get it truly clean. If your refrigerator is not in the best condition, you might want to hire a housekeeping service in Ann Arbor, Novi, Detroit, and the Detroit Metro area to take care of it for you.
When you hire professional cleaners to take care of the refrigerator, they will thoroughly clean the exterior of the appliance. They will also spend time cleaning the rest of the appliances in your kitchen as well as the floor and the sink. After your regular cleaning appointment, you can be sure that your kitchen is clean and sanitary.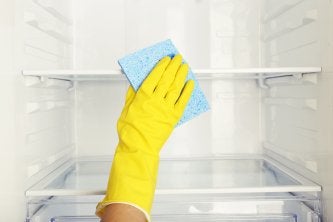 Once the cleaners have done their job, you can focus on keeping the inside of the refrigerator clean and ready for use. With the help of your professional cleaning service, you'll no longer have to worry about the cleanliness of your refrigerator and other appliances before hosting friends and family at your home.

Dirt is not always located in the most visible place in your home. Hiring residential cleaning services helps you target the dirt that is hard to see so you can enjoy living in a truly clean house. Keep reading to learn more about where dirt might be hiding in your home: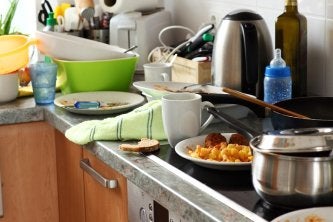 The kitchen sink is one of the dirtiest places in the home. Food particles can attract bacteria that could cause health issues for you and your family. There can also be a lot of dirt on the television remote, your desk, and your computer keyboard. When you hire a professional cleaning service in Ann Arbor, Novi, Detroit, or the Detroit metro area, they know where to focus to get rid of the hard-to-see dirt.
If you do not have the time to properly clean your home, it is important to hire a residential cleaning service. This ensures that you can come home to a home that is clean and sanitary.

Who says you can't keep a clean home when you have pets? Our furry friends may be notorious for leaving stains and odors throughout the home, but regular cleaning can easily remove the particles that leave these unpleasant and unwanted marks and smells.
Watch this video to see which simple cleaning tips can help you keep your home smelling fresh even when you have pets. Keep white vinegar, wipes, towels, a vacuum, and a dust mop around so you can easily pick up at the end of each day. If you allow your pets on the couch, place a throw blanket on top that can be removed and washed regularly.
If you have a hard time keeping up with these chores, consider hiring a maid service serving Novi . These experts can help you keep your home clean and fresh!

Everyone likes having a clean home! Unfortunately, not everyone likes sticking to their weekly chores. A Detroit cleaning service is the perfect choice for families who are too busy for these responsibilities. This service can help you keep up with household chores that should be completed regularly, such as: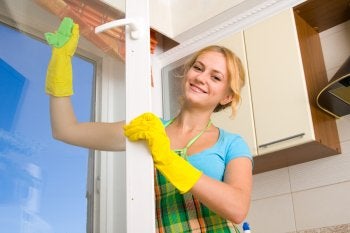 Vacuuming the Floors
Whether you have carpet, tile, or both, it is important to vacuum your home's flooring on a regular basis. Anything your shoes have touched can find its way to your floor. This surface is also a popular spot for crumbs, spills, and even insects. Regular vacuuming will remove the dirt and debris that get tracked into your home on a daily basis. You can also get rid of pet hair, allergens, and other unwanted particles that get pushed deep down into carpet and around tile by vacuuming often. Hiring a residential cleaning service is a great way to give your floors the treatment they need.
Cleaning and Disinfecting Bathrooms
The bathroom is one of the most commonly used rooms in the house. It can also become one of the dirtiest rooms in the house if you do not keep up with regular chores. With all of the moisture inside of the bathroom, it is easy for bacteria and mold to start growing. These and other germs in the bathroom can make the room look bad and negatively impact your family's health. House cleaning professionals can help you with bathroom cleaning and disinfecting responsibilities, letting your family enjoy a clean and healthy bathroom every day.
Appliance Cleaning
How often do you clean your refrigerator? What about the oven? We use a lot of home appliances on a regular basis, but we do not always clean these appliances on a regular basis! Leftover food and other debris can build up in your kitchen appliances, leading to bacteria growth and increasing your risk of a pest control problem. If you hire a weekly maid service, you can let the professionals handle your appliances and put your worries about bacteria and pests on the backburner.